What is Dynamic Radar Cruise Control and How Do You Use It?
Dynamic Radar Cruise Control is a crucial part of the Toyota Safety Sense™ package, so we've written up a quick post covering what it is and how you should use it.
Video Transcription
Dynamic Radar Cruise Control functions similarly to conventional constant speed cruise control in that it helps vehicles travel at a consistent speed set by the driver. But this system adds a vehicle-to-vehicle distance control mode, which assists the driver in helping to maintain a preset distance to a preceding vehicle when the proceeding vehicle is traveling at lower speed.
Once the vehicle speed is set by the driver, Dynamic Radar Cruise Control uses millimeter-wave radar and a forward-facing camera to detect vehicles in front of your vehicle and help determine their distance.
The system is designed to adjust vehicle speed automatically between approximately 25 to 110 mph. However, vehicle speed must be above approximately 28 mph to initiate DRCC as that is the lowest set speed. The system is designed to help maintain a preset distance between your vehicle and the preceding vehicle.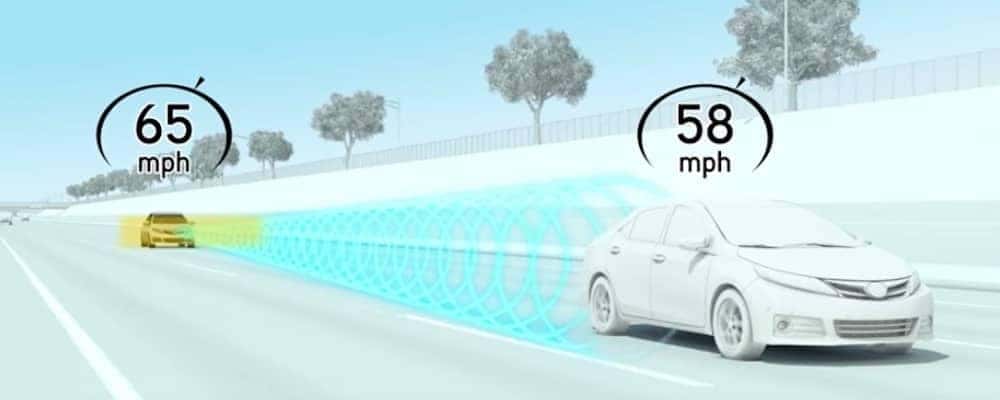 If the vehicle ahead is detected traveling at a speed slower than your set speed or within your distance range setting, the system is designed to automatically decelerate your vehicle without having to cancel the cruise control. When a greater reduction in vehicle speed is necessary, the system may apply the brakes and operate your vehicle's brake lights. The system will then respond to changes in the speed of the vehicle ahead in order to help maintain the vehicle-to-vehicle distance set by the driver or return to the preset speed once the road ahead is clear.
The vehicle-to-vehicle distance, or distance between your vehicle and the preceding vehicle, can be set by operating vehicle-to-vehicle distance control. Pressing the button allows the driver to choose from three vehicle-to-vehicle distance settings. When there is no longer a preceding vehicle driving slower than your vehicle's set speed, the system accelerates until the speed set is reached and returns to constant speed cruising.
Here is some important additional information from your owner's manual.
Dynamic Radar Cruise Control is a system primarily for driving on expressways and highways.
DRCC operation is dependent on the millimeter-wave radar's ability to detect a preceding vehicle, as well as the detectability of the preceding vehicle itself.
The system may not operate under the following conditions:
When visibility to the front is poor due to bad weather.
When something is on the sensor, such as dirt, bugs, ice, etc.
In a curve, or where the lane width is narrow, because a vehicle from another lane may be recognized as a vehicle in your lane.
When the leading vehicle is pulling an empty trailer or otherwise has a very small rear surface area, including motorcycles, as there is a limit to the degree of recognition accuracy and distance or deceleration control performance that this system can provide.
Do not overly rely on this system. This system will not operate in every situation. See your owner's manual for more information on the limitations of the Toyota Dynamic Radar Cruise Control function.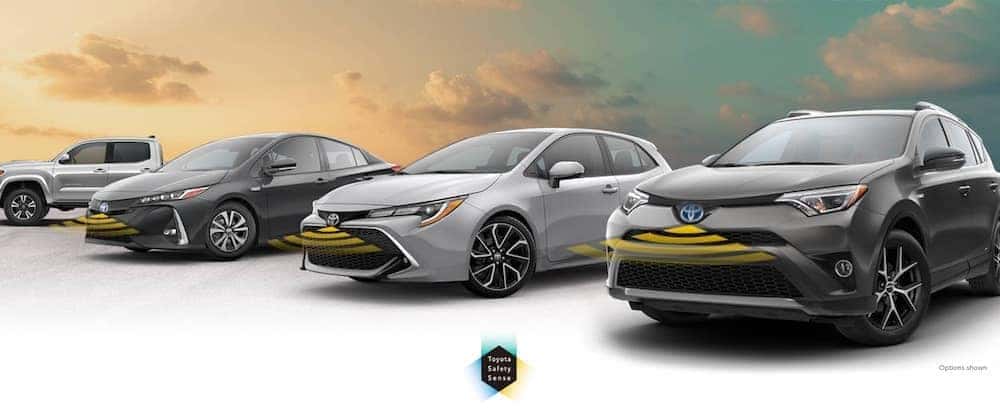 Find Out More About Toyota Safety Sense™ Technology with Toyota of Naperville
When you're cruising between Aurora, Oak Brook, and Joliet, Dynamic Radar Cruise Control simplifies your journey and improves your safety. To find out more, simply contact us today.