Take Command From Your RAV4 Multi-Information Display

Sit in the driver's seat of any new Toyota RAV4 and you'll find a Multi-Information Display in front of you. This is your onboard command center, and it lets you do everything from changing safety technology settings to adjusting audio. Here's how it all works.
Video Transcription
Your Toyota RAV4 is equipped with a Multi-Information Display (MID) that contains a variety of useful information and access to many of the vehicle's settings.
Controls for the MID are located on the right side of the steering-wheel:
The outer button is for selecting items and changing pages.
The center button enters your selection.
The back button takes you back to the previous screen.
The MID menu has several categories. To move between them, use the left and right arrow buttons on the steering-wheel.
The 'i' is for driver information and allows you to access useful driving data.
The compass icon is for the linked navigation system that provides route guidance and a compass.
The audio icon gives you access to the audio system.
The driver assist button displays the status of driving assist systems, like Lane Departure Assist and Dynamic Radar Cruise Control.
The warning messages icon displays alerts that require a corrective action, like closing a door.
The settings icon provides access to a number of customizable vehicle settings.
To view each category's content, use the up and down arrows.
If your vehicle is equipped with Lane Departure Alert with Steering Assist, you can turn the steering alerts and steering control function on or off and adjust the system's alert sensitivity if Lane Departure Alert is turned on.
Vehicle Sway Warning System can also be turned on or off and the system sensitivity can be adjusted. For vehicles equipped with a Pre-Collision System (PCS), you can turn it on and off, and adjust only its alert timing if the system is on. PCS will always default to on with each key cycle.
The Blind-Spot Monitor with Rear Cross-Traffic Alert can be turned on or off. If your vehicle is equipped with Parking Assist, it can be turned on or off. And if your vehicle is equipped with a Power Liftgate, it can be turned on or off, and you can adjust the opening height and beep volume.
In vehicle settings, you can access and reset the vehicle's scheduled maintenance setting. In meter settings, you can make a variety of changes to the instrument panel's display, like changing the language and units of measurement. You can also turn the EV Mode Indicator on or off.
Select Drive Info for elapsed drive time and average speed to be displayed. You can change the pop-up display to show route guidance or incoming calls and customize the color or reset the system to the default settings. For more information, refer to your Toyota owner's manual.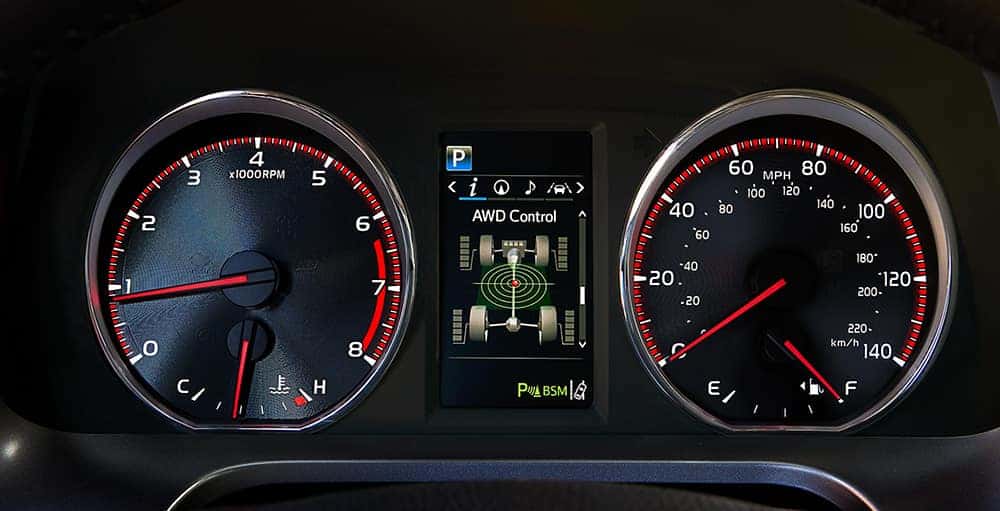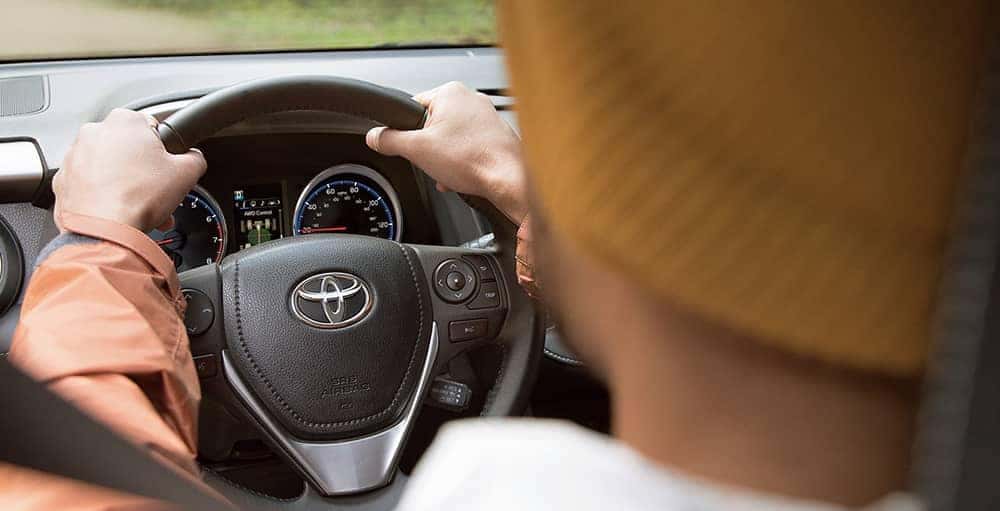 Find Your Next Toyota RAV4 by Visiting Our Showroom
The MID comes as standard with every new RAV4, including all Toyota RAV4 Hybrid trims. Visit Toyota of Naperville today to try it out or check out our online guides to compare the Toyota RAV4 vs. Honda CR-V and more.