How to Use Automatic High Beams
This technology is included with Toyota Safety Sense™, and learning how to use Automatic High Beams can help prevent accidents at night, so we've put together a quick and easy guide to take you through how they work and when you can safely use them around Aurora and elsewhere.
Video Transcription
Driving at night time may increase the chance of accidents if drivers are not able to clearly see what is ahead. Automatic High Beam is a safety system designed to help drivers see more of what's ahead at nighttime without dazzling other drivers.

When enabled, Automatic High Beam uses an in-vehicle camera to help detect the headlights of oncoming vehicles and taillights of preceding vehicles, then automatically switches between high and low beams as appropriate to provide the most light possible and enhance forward visibility.

Here's how it works:

When driving in low-light conditions at vehicle speeds above approximately 25 mph and the Auto High Beam feature turned on, the vehicle's camera is designed to detect headlights of oncoming vehicles or the taillights or preceding vehicles, then automatically switch to the low beams.
After the system senses the oncoming vehicle has passed, or the distance between your vehicle and the preceding vehicle increases, it automatically reverts back to the high beams.

By using the high beams more frequently, the system may allow earlier detection of pedestrians and obstacles.

Here's some important additional information from your owner's manual.

Automatic High Beam's operation is dependent on the in-vehicle camera's ability to see clearly and detect preceding headlights or taillights, as well as the visibility of the preceding headlights or taillights themselves. It is the driver's responsibility to pay attention to their surroundings and directly confirm safety of surroundings by turning high beams on and off manually as needed.

The system may not operate under the following conditions:

When visibility to the front is poor, due to bad weather.
When something is covering the sensor, such as dirt, bugs, ice, etc.
On a road with frequent curves or where there is a sharp curve
When driving on uneven or rough roads, such as stone paving, gravel road, unpaved road, etc.
If a vehicle in front is traveling without lights, irregular lights, odd colored lights, or where the light axis is offset.

As there is a limit to the degree of recognition accuracy and performance that this system can provide, do not overly rely on this system. This system will not cycle headlights between low and high beam in every situation.

See your owner's manual for more information on limitations of the Toyota Automatic High Beams function.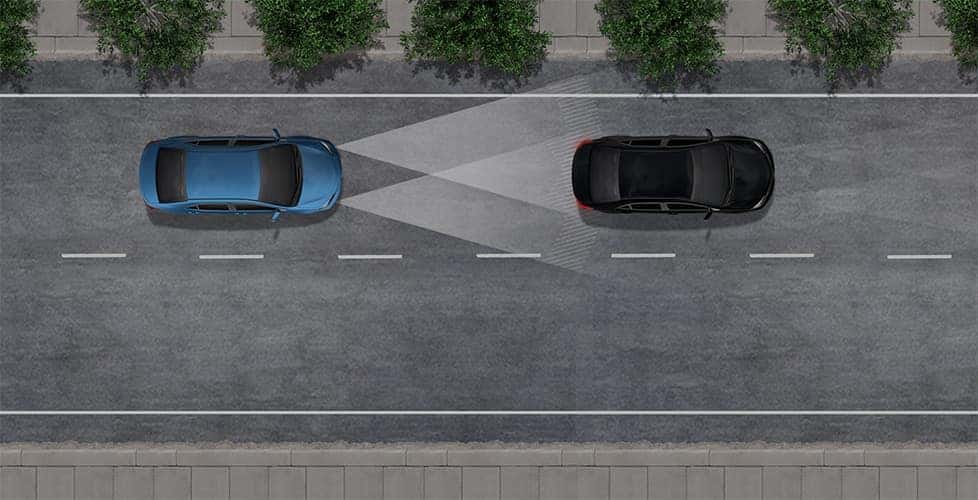 Let the Toyota of Naperville Team Talk You Through the Latest Safety Tech
If you'd prefer to talk through Toyota Safety Sense™ features firsthand or check out available new vehicles with standard Automatic High Beams, such as the 2019 Toyota Sequoia, simply contact us today or visit the showroom — we're just a short drive from Plainfield and Wheaton.