How to Connect Your Toyota to Apple CarPlay
Toyota vehicles with Apple CarPlay let you bring the features and apps of your iPhone to your everyday drive for added convenience, entertainment, and connectivity. Connecting is simple, so you can learn all you need to right here.
Video Transcription
This post will go over Apple CarPlay integration, a new way for select Toyota vehicles to better integrate with an iPhone. Just connect your iPhone and go!

CarPlay is the smarter, safer way to use your iPhone while you drive, giving you easy access to features from your iPhone. Native vehicle functions are still present and accessible, and nothing is transferred from your iPhone to the vehicle. And because it runs from your iPhone, CarPlay stays up to date on its own.

Apple CarPlay uses the car's built-in display and shows many familiar applications and content from your connected iPhone, like:

Phone
Music
Apple Maps
Messages
Podcasts
And even Third-Party Navigation Apps

CarPlay also supports third-party audio, messaging, and voice apps. The apps themselves have all been adapted for the car, so you can use them while your eyes and hands stay where they belong. And since CarPlay features Siri, it is designed to work with your vehicle's audio multimedia controls.

So, when you want to talk to Siri, just press and hold the Call switch on the steering wheel for three seconds.

Using CarPlay is as simple as plugging an iPhone into the vehicle's USB port. To get started, first ensure you have an iPhone 5 or newer and an Apple Lightning cable. Now plug your iPhone into the USB media port via an approved Apple Lightning cable. The multimedia system will display a prompt with three options:

Do Not Enable will disregard the CarPlay request and the vehicle's audio system will function as without connecting to CarPlay.
Enable Once will activate CarPlay for a single session only and will prompt the user each time the iPhone is connected.
Always Enable will automatically activate CarPlay for any future sessions and will no longer prompt the user.

If you select Enable Once or Always Enable, a message will appear on the multimedia display to notify you that your Bluetooth devices will be disconnected. Please note, upon plugging in the cable, first-time CarPlay users may receive a prompt on their phone as well asking to allow CarPlay with Toyota while phone is locked — tap Allow to this.

If you connect your iPhone and CarPlay does not launch, check the multimedia system settings to ensure CarPlay is enabled. To do this, press Menu > Setup > General, then scroll down to CarPlay and toggle it to the On position.

Now that the iPhone is connected, you're ready to use Apple CarPlay. Select the Menu button on the multimedia system, then tap on the CarPlay icon. Or, for vehicles equipped with Entune 3.0 Audio and Entune 3.0 Audio Plus, you can simply press the Map button on the multimedia system.

CarPlay's apps are laid out in pages of eight. This layout can be customized on the phone. The left edge of the CarPlay home screen features a quick menu of apps: the clock, cell and data signal strength indicators, and a Home button.

Please note: once enabled, App Suite be unavailable while CarPlay is in use. To back out of the CarPlay interface and use your native Entune system, tap the Toyota App icon or press the Home button. CarPlay will still run in the background, including functions like Phone and Music Streaming, and it can be returned to at any time by using the steps described earlier.

To end a CarPlay session completely, simply unplug your iPhone.

And that's all there is to it using CarPlay on Toyota vehicles!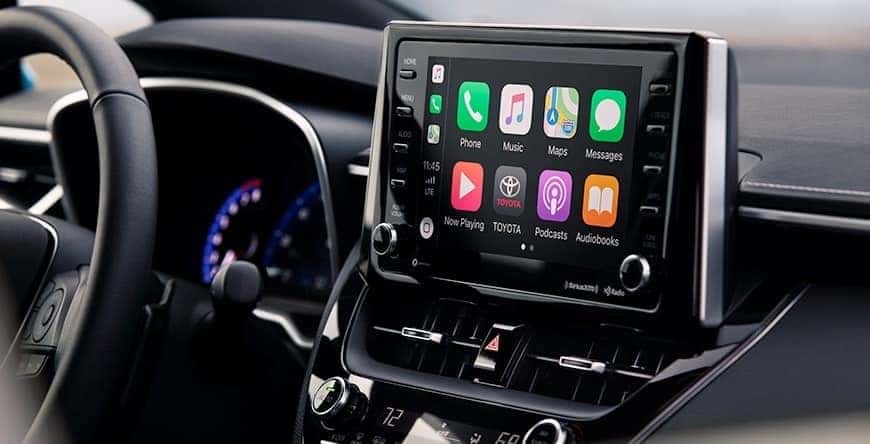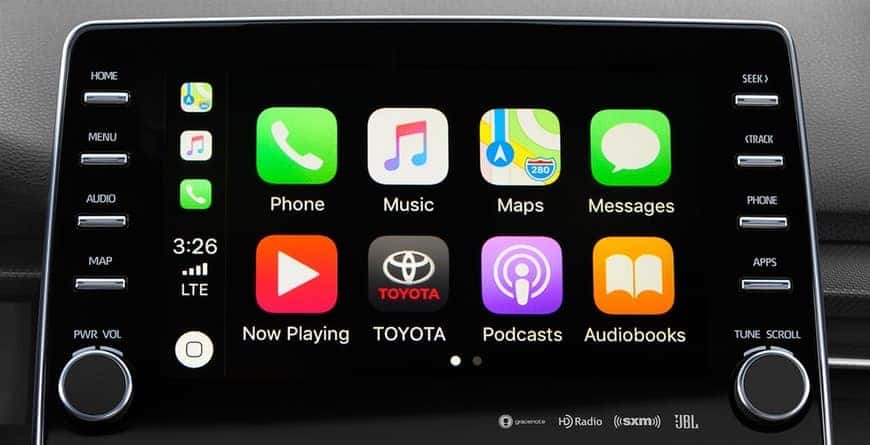 Take a Closer Look at Toyota Vehicles With CarPlay by Visiting Our Showroom
Ideal whether calling home between Aurora and Plainfield or streaming music on a trip into Wheaton, you'll find Toyota vehicles with CarPlay throughout the lineup. Feel free to contact us today or apply for financing online.