Hear the Millennium Carillon From Moser Tower

The Millennium Carillon is one of Naperville's most stunning sights and most popular attractions. Housed in the imposing Moser Tower, it delivers breathtaking views across the city and charming music during regularly scheduled performances.
What is the Millennium Carillon?
In case you're not aware, a carillon is a type of musical instrument. Made from at least 23 cup-shaped bells, they can be played together for a chord or serially for a melody, and you'll commonly find them housed in bell towers of churches or municipal buildings.
Naperville's Millennium Carillon features 72 bells, each of which is inscribed with the name of donors to the project. If you haven't heard the Millennium Carillon play, you can't quite imagine how it sounds.
Climbing Moser Tower
You can hear the Millennium Carillon from the ground, but visitors shouldn't hesitate to climb Moser Tower for a closer look. When you finally arrive at the top, you'll enjoy panoramic views out across the Naperville Riverwalk and Centennial Beach from the open-air Observation Deck. If the day is clear, the Chicago skyline will be visible.
Of course, you'll need to get your breath back before taking in the stunning views. Moser Tower rises 14 stories high and has about 10 feet on the Statue of Liberty. On your way up, take a break by checking out:
The Lower Belfry
Carillonneur's Cabin
The Upper Belfry
There are ramps leading to an elevator that takes visitors halfway up Moser Tower to view the surrounding area and see the largest of the carillon's 72 bells, but climbing higher means walks up to eight more flights of stairs. If you climb from the bottom, it's an imposing 253 steps.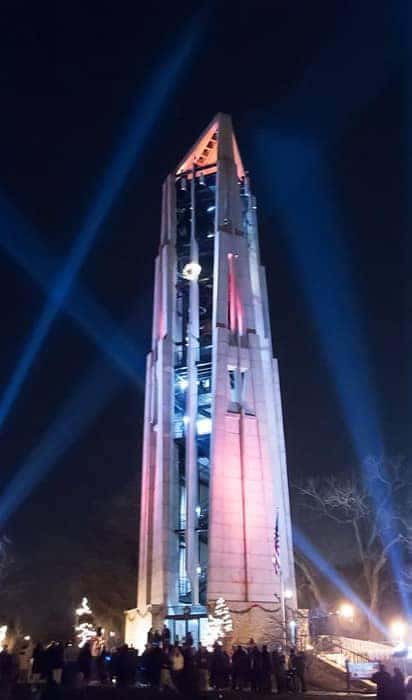 If you'd like to visit, the tower is open to the public on weekends from May to October. You can also visit the grounds to listen at any scheduled performances.
The Millennium Carillon at Moser Tower is a True Naperville Landmark
Moser Tower is one of the Naperville Riverwalk's main attractions, and the Millennium Carillon is something you have to hear for yourself. From the best bars to the best sushi, Naperville's got plenty to offer.