The 2017 Toyota Camry MPG Ratings are Exceptional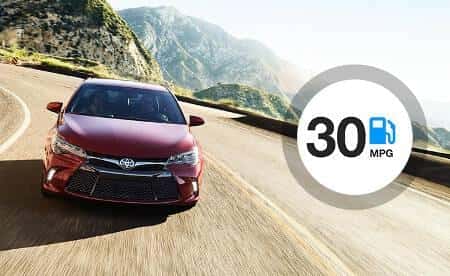 Whether driving around Elmhurst or heading from Aurora into Chicago, the vivacious ride and 2017 Toyota Camry mpg ratings are going to be appreciated. With two available engines making the most of the vehicle's exceptionally sculpted body, you'll be stunned by the refreshing combination of fun and efficiency that the new Toyota Camry represents.
2.5L Four-Cylinder
The 2017 Toyota Camry comes as standard with a 2.5L four-cylinder across all trim levels, delivering a subtle blend of enthralling performance and practical efficiency scores.
When you hit the gas, the vehicle will respond with instant acceleration from standstill and stately power when you're cruising the highway, all thanks to an impressive 178 hp and 170 lb-ft of torque. VVT-i (Variable Valve Timing with intelligence) technology helps lower fuel-consumption while a six-speed automatic transmission helps smartly parcel out power; all told, expect to make up to 24 mpg in the city and 33 mpg on the highway.*
3.5L V6
Toyota were clearly confident that the standard 2.5L four-cylinder would satisfying the needs of the everyday driver and then some, but what about those who want a family-friendly sedan capable of unexpected vim and vigor?
For such drivers, the available V6 stands out as an ideal option. With up to 268 hp and 248 lb-ft of torque under your command, the new Camry really does fly, and you'll still achieve commendable efficiency ratings of up to 21 mpg in the city and 30 mpg on the highway.*
Body
If you're impressed that such power can be melded with such efficiency, you only have to look to the body of the latest Toyota Camry to find out why. Every angle and element has been optimized around fuel-sipping performance.
Vortex Generators: Turbulent air is smoothed out for enhanced aerodynamics.
Wide Track: A wider track than you'd expect from a midsize sedan will plant you firmly on the ground and help ensure high-end agility and control.
MacPherson Suspension: With shocks, springs, and sway bars recalibrated, your ride handles with precision and never feels jerky or testing.
Nothing Compares to Taking the 2017 Toyota Camry for a Test-Drive
Here at Toyota of Naperville, we've become used to seeing faces light up during a test drive in the 2017 Toyota Camry and then light up again when they hear about its mpg ratings. If you'd like to arrange a test-drive of your own, simply contact us today.