Christkindlmarket Naperville Brings the Christmas Spirit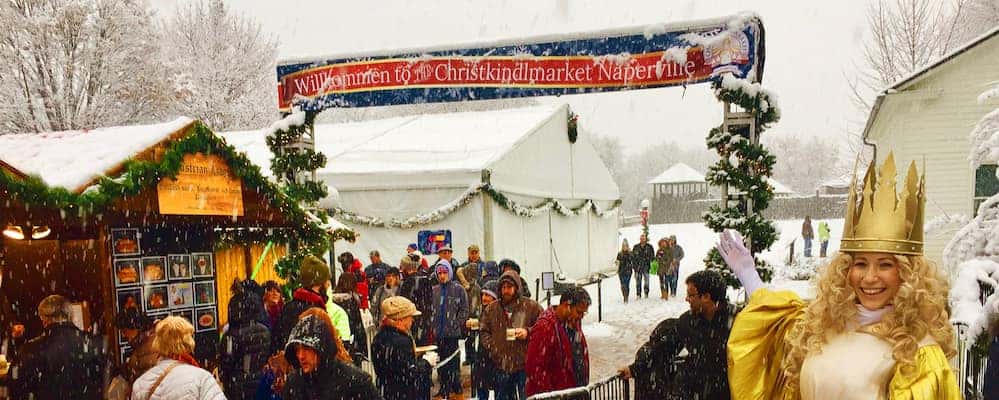 From Friday, November 23 to Sunday, December 24, Christkindlmarket Naperville is back for another year of festive fun, Yuletide shopping, and winter food and drink. Held at the Naper Settlement, it's a great place to pick up stocking-fillers and enjoy the Christmas spirit.
What is a Christkindlmarket?
Christkindlmarket is one of the Chicago area's most exciting winter festivals, so our course it's a big hit in Naperville.
Drawing on German winter festival traditions, it's the place to sip Glühwein from a souvenir mug and eat Germanic favorites like knockwurst and potato pancakes. Christkindlmarket quickly became popular enough to spawn new locations away from the main market in Daley Plaza. In 2016, a new Christkindlmarket opened at Naper Settlement to bring a whole new festive traditional to Naperville locals.
When is the 2018 Christkindlmarket in Naperville?
For 2018, Naperville's Christkindlmarket will run from November 24 – December 24.
Hours are as follows:
Thursdays: 11 a.m. – 7 p.m.
Fridays and Saturdays: 11 a.m. – 9 p.m.
Sundays: 11 a.m. – 6 p.m.
Specials Hours:
December 17 – 20: 11 a.m. – 8 p.m.
Christmas Eve: 11 a.m. – 4 p.m.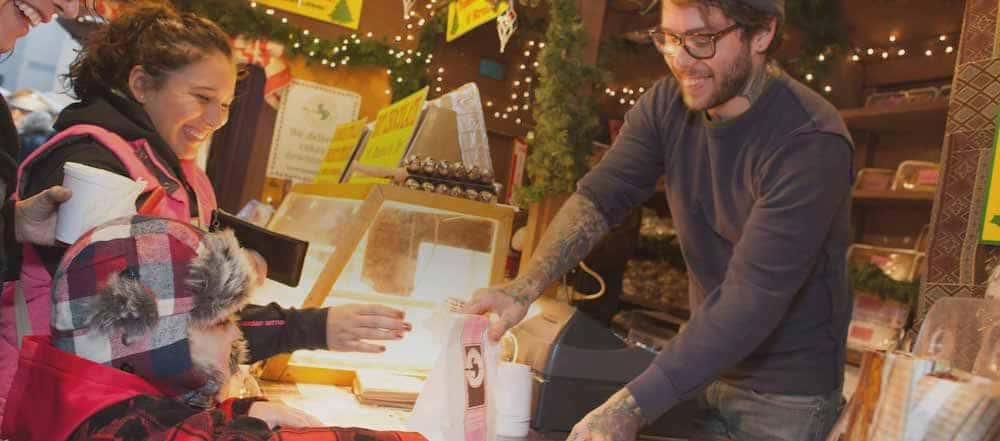 What Can You Expect from the Naperville Christkindlmarket?
As with the Chicago Loop's Christkindlmarket, the Naper Settlement event will provide all the sights, sounds, and smells of a traditional German holiday market. You'll find over 40 vendors providing everything from German beers to Christmas ornaments at walk-in cabins, with just a few vendors including:
Viktoria Anna Ornaments
Bethlehem Nativity Products
Winterbourne Alpaca
Baked Cheese Haus
Gifts from Eastern Europe
Piccadilly Roasted Nuts
Bob's Belgian Hot Chocolate
Milwaukee Pretzel Company
And unique shopping opportunities aren't the only thing on offer. You'll also be entertained by live performances from musicians, singers, and dancers. Even if you aren't looking to buy anything, simply wandering through rows of traditional walk-in cabins can put you in the holiday spirit. Admission is free, so why not give it a try?
Find Out More About Festive Naperville Events With Toyota of Naperville
Here at Toyota of Naperville, we always stay current with the latest local events and attractions so we can point our customers in the right direction when they need to find out what's on. For more information, contact us today.
More of Our Favorite Local Attractions
Che Figata will surprise you. It's attached to Hotel Arista — you can pass between the two without going outside — but it's one of the finest Italian restaurants in Naperville, and in many ways seems more like a high-priced big-city bistro in Chicago that would require reservations well in advance.  Fortunately, you probably won't…

From Friday, November 23 to Sunday, December 24, Christkindlmarket Naperville is back for another year of festive fun, Yuletide shopping, and winter food and drink. Held at the Naper Settlement, it's a great place to pick up stocking-fillers and enjoy the Christmas spirit. Things to Do in Napervile What is a Christkindlmarket? Christkindlmarket is one of…

If there's one thing that Chicagoans and those in the surrounding suburbs can agree on, it's pizza. Whether you prefer classic Chicago-style deep dish or thin crust, square slices or triangle slices, you're covered. The next time the craving hits, grab a pie from of of these five places that serve the best pizza in…