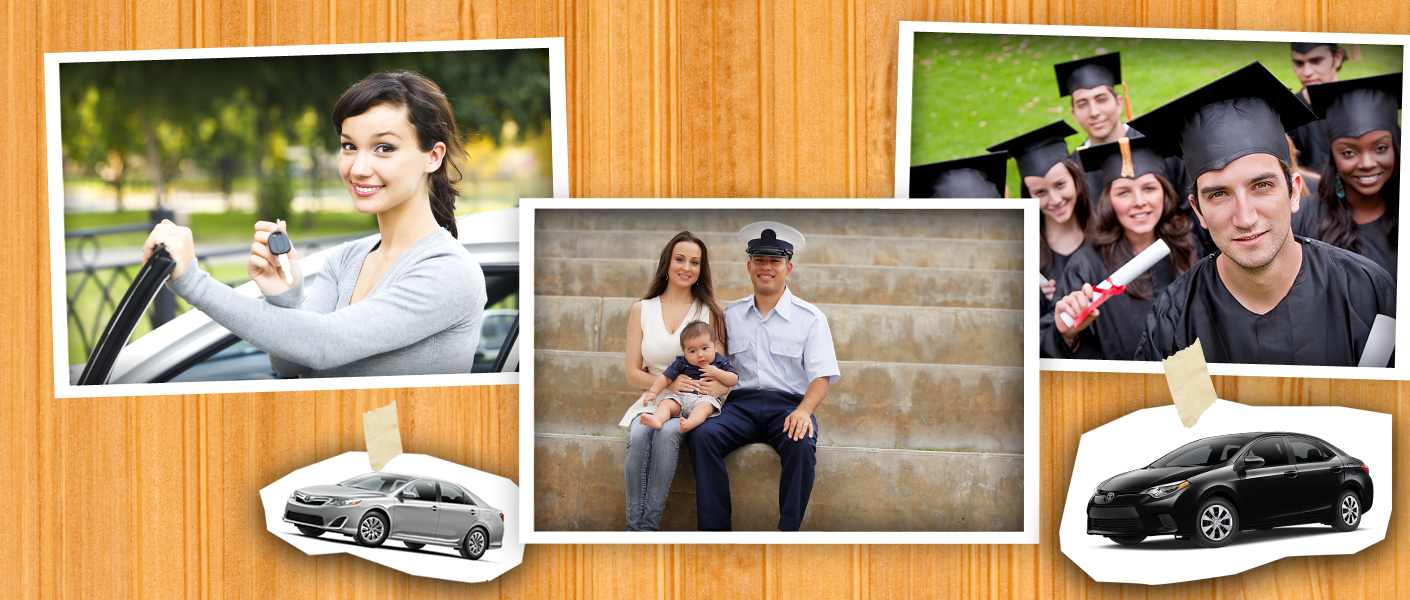 College Graduates
Take the test you'll enjoy: A Toyota test drive
School may be out for you, graduate, but there's still more to learn — and earn. If you've obtained a degree within the last two years, you may qualify for the Toyota College Graduate Finance Program, featuring a $750 rebate toward the purchase or lease of the following Toyotas: Camry Gas (excludes Hybrid), Corolla, Prius-c, RAV4 , Tacoma, Yaris; through your Toyota dealer and Toyota Financial Services (TFS).
It pays to go to college: The Toyota College Graduate Finance Program1
We all know that going to college can be tough on the pocketbook. TFS goes to the front of the class with a finance plan that features the following:
• No money down and no monthly payments for the first 90 days on select finance programs on all new untitled Toyota vehicles*
*(does not apply to vehicles with special financing)
• Competitive APRs on all new untitled Toyota vehicles and Toyota Certified Used Vehicles
• $750 rebate when you purchase or lease any new Toyota Camry (excluding Hybrid models), Corolla, Matrix, RAV4, Tacoma or Yaris, or Prius C between now and July 7, 2014
*(does not apply to vehicles with special financing)
If you have any questions please contact Toyota of Naperville Sales at (877) 448-5152
Local Area Universities
College of DuPage
Benedictine University
UIC
Northern Illinois University
Northern Center College
deVry
Toyota Technological Institute at Chicago
University of St. Francis
Saint Xavier University
Robert Morris University
Roosevelt University
Illinois Institute of Art - Chicago
Illinois Institute of Technology
Illinois Wesleyan University
DePaul ect
Public colleges and universities
Chicago State University
Eastern Illinois University
Governors State University
Illinois State University
Northeastern Illinois University
Northern Illinois University
Southern Illinois University
Southern Illinois University Carbondale
Southern Illinois University Edwardsville
University of Illinois system
University of Illinois at Chicago
University of Illinois at Springfield
University of Illinois at Urbana-Champaige
Western Illinois University
Scion College Grad Rebate
You can also get a rebate on a new Scion car in Naperville, IL. College graduates that meet the same requirements of the Toyota rebate program are eligible to receive a $750 rebate on a brand new Scion vehicle. You can find your next Scion in Naperville, IL at our dealership.
Making the grade: How to qualify
To qualify for the rebate, you'll need to meet the following graduation, employment, insurance and credit criteria requirements.
• Earn your degree. To take advantage of the program, you must meet one of the following:


• Have graduated from an accredited four-year college, university, or registered nursing degree program during the last two years or graduate from such a school/program within the next six months

• Have graduated from an accredited two-year college during the last two years

• Be enrolled in an accredited graduate degree program or have received a degree from an accredited graduate program during the last two years

• Have graduated during the last two years from the two-year Toyota Technical Education Network (T-TEN) Program or any other two-year post secondary automotive program accredited by the NATEF

• Have completed an electrician apprenticeship/certification program during the last two years through the NJATC and the IBEW

• Get to work. At contract signing, show proof of present employment or future employment with a start date within 120 days of your purchase contract date. Note that TFS must deem your income sufficient to cover living expenses and vehicle payments.
If you meet all the above criteria but have experienced credit lapses, don't give up. You may still qualify if you've paid off your obligations within 60 days or less of the due date and do not have charge-offs totaling more than $500 in the past 24 months.
The applicant or co-applicant must meet all of the college graduate program qualifications.
*The maximum terms for the rebate (in months) for all eligible vehicles under the Plan are as follows:
Retail Lease Preferred Option* 60 36 48
*Preferred Option available in the following states only: AR, IL, LA, MS, OK,& TX
Military
You rank with us When it comes to supporting our troops, everyone wants to do their part. At Toyota, that means offering all eligible U.S. military personnel a $500 rebate toward any new Toyota vehicle when you finance through your Toyota dealer and Toyota Financial Services.1 To qualify for the rebate, you must meet these conditions at the time of purchase:
• Be in current active duty status in the U.S. Military (Navy, Army, Air Force, Marines, National Guard, Coast Guard and active Reserve) OR a U.S. Military inactive reserve (i.e., Ready Reserve) that is part of the individual Ready Reserve, Selected Reserve and Inactive National Guard. Retired Military Personnel are not eligible.
• Provide verifiable proof of military status or active service at the time of purchase
• Leave and Earning Statement
• Military Identification Card (Photo copy of Military Identification Card is NOT required.)
• Receive a salary sufficient to cover ordinary living expenses and payments for your Toyota Receive credit approval through a Toyota dealer and Toyota Financial Services
For more information, please contact Toyota of Naperville Sale at (877) 448-5152.
Business Solutions
Your vehicles are vital to your business. Because your time is valuable, we work closely with your Toyota dealer to help make financing your vehicles easier so you can get back to business.
Who Qualifies?
A business must be a legal entity (e.g. corporation, general partnership, limited partnership, LLC or be a sole propriertorship)
Ready to finance? Start here.
Your first step is to download a Credit Application. Your Toyota dealer will require this completed credit application along with a few other documents to get started. Some applications may require further consideration and additional information may be required. Be sure to bring the following documents with you:
1. Verification of corporate existence and corporate name
(Examples: Copy of fictitious name filing, Articles of Incorporation, Partnership Agreement, Business License, etc.)
2. Verification of authenticity and authority of signers
(Examples: Certified Resolution and Incumbency Certificates)
3. Financial documentation
Typically, you will need to provide financial documentation. This may include tax returns from the two most recent years as well as your most recent personal tax return.
To find the Toyota dealer nearest you, use our dealer locator.
Business Finance and Lease Options
Choose from flexible finance and lease options tailored to the needs of small business owners.
Additional Products and Services
Save time and plan for the future with a Vehicle Credit Line, Master Agreement and other customized solutions.
Vehicle and Payment Protection Plans
Protect your investment with a TFS vehicle and payment protection plan.
Repeat Customer Programs
Time to buy a new vehicle? When was the last time your finance company gave you something back? At Toyota Financial Services, we reward our repeat customers through the Encore Program.

If you've previously financed or leased a vehicle through TFS and a participating Toyota dealer, you may be eligible for special benefits as a returning customer.

Ask your dealer if you qualify for our Encore Program. Your dealer will have information about additional benefits. To locate the Toyota dealer nearest you, use our dealer locator.