Lease a Toyota in Naperville IL
Leasing a new Toyota vehicle is a very exciting option for people that choose to lease. There isn't much not to like about the thought of leasing a Toyota in Naperville, IL.; customers can save a significant amount of money each month and they will have choices that include almost every vehicle on the Toyota of Naperville roster. In keeping with the theme of saving money on leasing a Toyota vehicle, customers who choose this option may have the ability to get better interest rates than buying a vehicle with a car loan as well as have access to a better set of rebates that may not be offered with the purchase of the new vehicle.

Opponents to the idea of leasing a Toyota vehicle will say that customers don't have any equity and don't own anything after making a few years of payments. That idea is very much outdated. First of all, the equity a customer has in a Toyota lease is the cold, hard cash they don't spend. As an example, if the per month payment on a car loan is $400 and a monthly lease payment is $250; that is $150 in equity a customer can build every month. Over the life of a fairly standard 36-month lease, those savings translate into an additional $5,400 in a customer's pocket. How many purchasers have $5,400 in equity at the 3 year point of a 5 year loan (and put nothing down upfront)?

That point dovetails nicely into the next outstanding advantage of leasing a Toyota vehicle; customers need not worry about depreciation. The old car sales adage says that the very second a car, truck or SUV rolls out of a showroom with a customer, it has automatically depreciated a very large amount. After the years a customer drives that non-leased vehicle, they must worry about how much they are going to get as a trade-in or how much they can expect to sell if for through a private sale. Leasing all but eliminates those problems for the customer. After all, once the terms of the lease are up the customer simply needs to turn that vehicle back into Toyota of Naperville and start their next Toyota lease. All of the risk of what to do with that vehicle next is on the leasing company, Toyota. Or, if you loved it and want to keep it, you can. You have the option to buy out your lease for the residual value that was agreed at the beginning of the lease.

Every sales professional at Toyota of Naperville is very well versed in the many upsides of leasing a Toyota vehicle. They are more than happy to sit down and find the right fit for any customer's needs.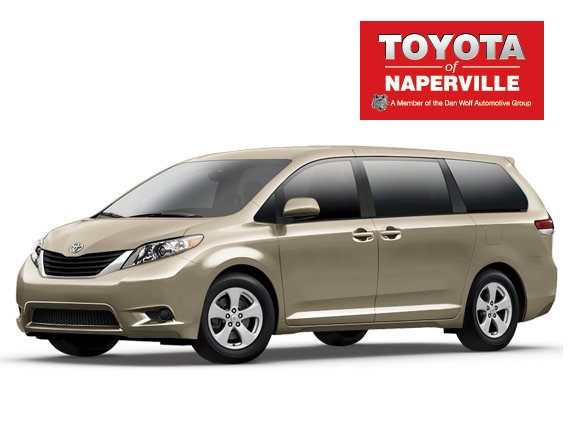 New 2015 Toyota Sienna LE
$249 for 24 months with $2,899 due at 24 month lease inception

*$1,999 total due at 24 month lease inception, which includes first month's payment, $2,000 down payment, $0 Security deposit and $650 acquisition fee. Plus tax, title, license and $166.27 doc. fee. with approved tier 1+ credit through Toyota Financial Services. 12K miles per year. Toyota rebates and incentives available to all consumers applied in lieu of special factory financing. Additional incentives may be available to qualified buyers. Offer ends 12/1/2014