2014 Toyota Avalon vs Mercedes-Benz CLA-Class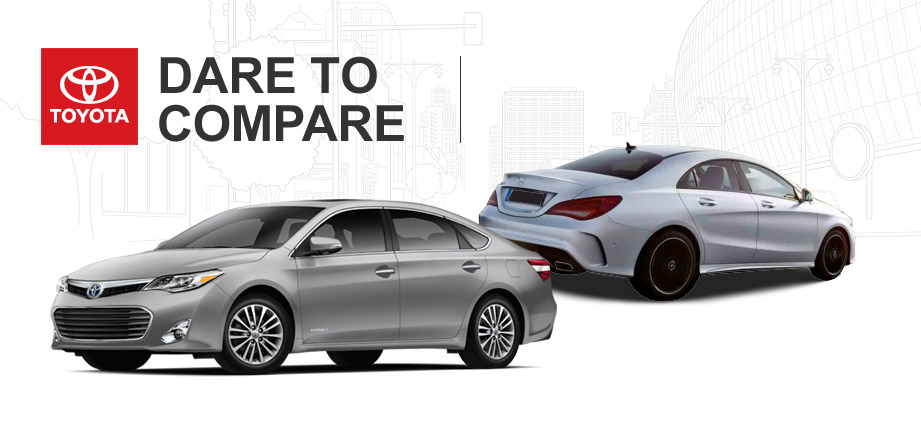 2014 Mercedes

CLA-Class

3.5-liter, V-6
Engine
Turbocharged, 2.0 liter, 4-Cyl.
268
Horsepower/Torque (lb.-ft.)
208

21/31*

Fuel Economy
26/38

6-speed automatic

Transmission
7-speed automated manual
Toyota Avalon vs. Mercedes-Benz CLA-Class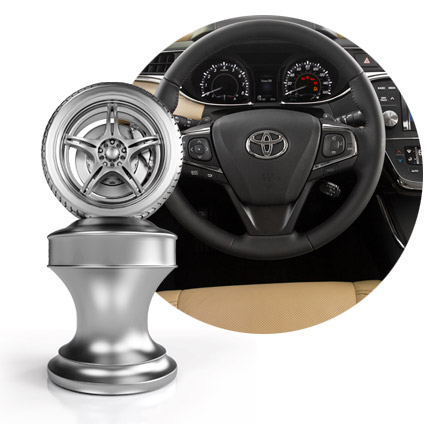 Every vehicle in the Toyota lineup available at Toyota of Naperville offers something for someone. The Toyota brand has been built on the backs of reliable and fuel-efficient cars. As the needs of the customer have changed, so has the design of Toyota vehicles. For instance, the Toyota Avalon has come to be one of the finest examples of a vehicle in the relatively new entry-level luxury sedan category of vehicles. The Toyota Avalon has the performance and refinement to go toe-to-toe with comparable offerings from Mercedes-Benz.

Taking a close look at the Toyota Avalon vs. the Mercedes-Benz CLA-Class will reveal two cars that are a credit to their automotive segment. The interior of the Toyota Avalon is one of the most comfortable and well appointed that has ever been produced with a Toyota badge attached to it. The three-tiered dashboard design of the Avalon leaves the driver with a comforting feeling of having adequate space to be comfortable while still keeping the gauge cluster and necessary controls easy to read and be reached by the driver. Inside the new Mercedes-Benz CLS-Class sedan, we see everything that you would expect from a luxury automaker.
Performance and comfort combine in Toyota Avalon
Under the hood of the Toyota Avalon sits a 3.5-liter, V-6 engine that can produce 268-horsepower while maintaining Environmental Protection Agency Fuel-economy ratings of more than 20 miles per gallon in the city and highway fuel-economy scores that can break 30 miles per gallon, as well with the standard six-speed automatic transmission. The Mercedes-Benz CLA250 that is being marketed by the German automaker as a direct competitor for to the Toyota Avalon has a turbocharged, 2.0-liter, four-cylinder engine under the hood that can make a little more than 200-horsepower.

One of the biggest differences people will see in the Toyota Avalon vs. the Mercedes-Benz CLA-Class is that rear-seat passengers over six feet tall are going to be much more comfortable riding in the Avalon. The second row of seats is comfortably designed with lots of support as well as leaving plenty of headroom. Several independent reviews have taken some issue with the roof rake of the new Mercedes-Benz CLA-Class. The severe angle of the CLA's roof-line could lead taller rear passengers to having a less than comfortable experience.