2014 Toyota Tundra vs 2014 Ram 1500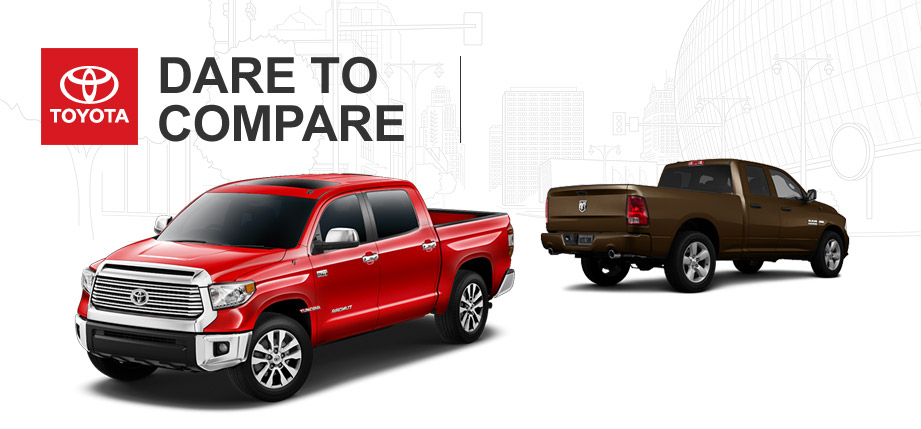 2014 Ram

1500

5.7-liter, V-8
Engine
5.7-liter, V-8
381/401
Horsepower/Torque (lb.-ft.)
395/407
13/18*
Fuel Economy
14/20*
10,200
Towing Capacity (lbs.)
10,450
2014 Toyota Tundra vs. Ram 1500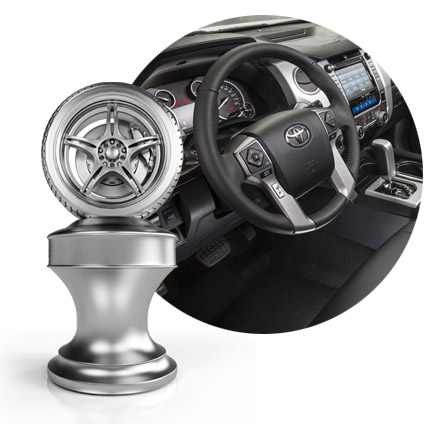 Few automotive industry segments are as competitive as the full-size pickup truck segment. Toyota of Naperville is diving in head first thanks to the arrival of the 2014 Toyota Tundra. Any of our sales professionals will tell you that truck owners are arguably the most brand-loyal of any in the industry. This is something that makes switching somebody over very difficult. However, the 2014 Toyota Tundra is certainly in a position to break that trend.

Comparing the 2014 Toyota Tundra vs. the Ram 1500 is a very tight battle. Both vehicles offer very similar engine choices that offer very similar capabilities. The 2014 Toyota has gone through a very extensive redesign process that has given the pickup truck an almost brand new exterior that features more athletic and modern look. The interior has also been upgraded to show-off a whole new array of premium materials. Available front and rear legroom of the 2014 Toyota Tundra is also among the top of the industry.
Mechanical comparisons of the 2014 Toyota Tundra vs. Ram 1500
Of the three engine choices that are available with the 2014 Toyota Tundra, one of the most popular is the 5.7-liter, V-8 engine that is rated for 381-horsepower and 401 pound-feet of torque. The Ram 1500 is a very close competitor in this sense. Ram also features a 5.7-liter, V-8 as one of its key engine options and its horsepower and torque outputs are just slightly ahead of those in the 2014 Toyota Tundra. In terms of towing capacity of the 2014 Toyota Tundra vs. Ram 1500, there is only a couple of hundred pounds of difference. For trucks that can break the 10,000-pound mark, this is a statistical tie.

The 2014 Toyota Tundra also comes with a state of the art rearview camera that can help with hooking up to a trailer of give a better view of potential obstructions behind you as you try to maneuver out of tight spots. The 2014 Tundra also comes with the Toyota Star Safety System that is the sum of several safety features such as traction control, stability control, anti-lock brakes as well as three different advanced braking systems.