2014 Toyota Sienna vs 2014 Nissan Quest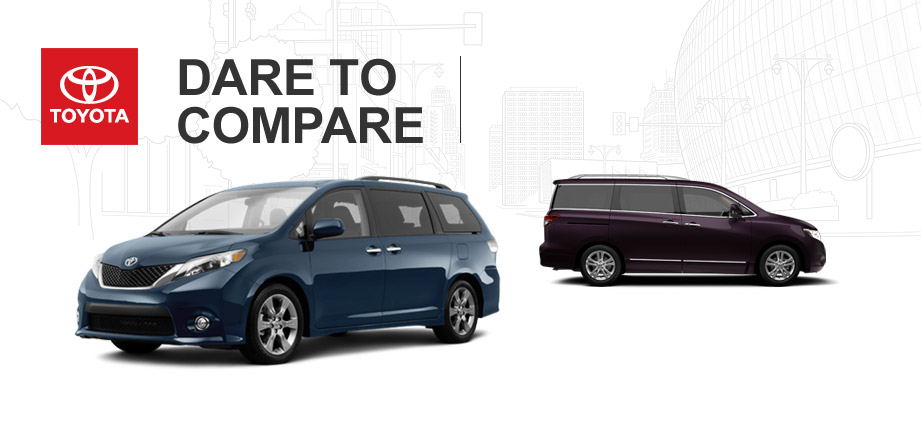 | | | |
| --- | --- | --- |
| | | |
| 3.5-liter, V-6 with 266-hp | Engine | 3.5-liter, V-6 with 260-hp |
| 18/25 | Fuel-economy | 19/25 |
| 8 passengers | Max. Occupancy | 7 passengers |
| 150 | Max. Cargo Space (cu.-ft) | 108 |
2014 Toyota Sienna vs. 2014 Nissan Quest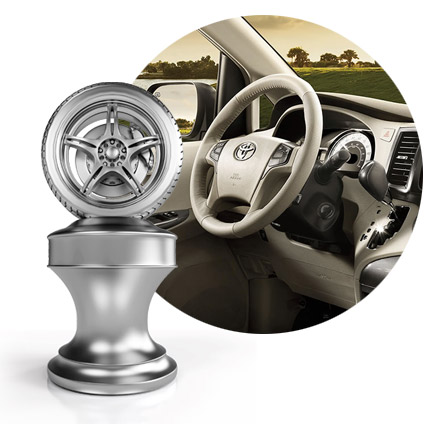 Because of the introduction of the crossover SUV, the battle among remaining versions of the minivan has become even more contested. Take for instance, the 2014 Toyota Sienna vs. the 2014 Nissan Quest, these two minivans arguably are the best options available for those shopping for this kind vehicle. However, with very little work, the 2014 Toyota Sienna bests the 2014 Nissan Quest in almost every metric we could find. These differences were made clearer thanks to a few subtle, but important changes made to the 2014 Toyota Sienna available at Toyota of Naperville.

One of the biggest changes made to the new Toyota Sienna was the addition of the six-speed transmission to every available trim level. The implications for making this gear-changer more widely available are that it will allow for the Sienna to have greater fuel-economy as well as have plenty of power in reserve for passing slower traffic or merging with moving traffic at highway speeds. This is evidenced by the fact that independent testing has found that the 2014 Sienna will go from zero-to-60 mph in 7.5 seconds whereas the 2014 Quest doesn't hit that mark for 8.3 seconds.
Further separating the Sienna from the Quest
Both vehicles have similar engines under the hood, with a 3.5-liter, V-6 motor as the sole choice for the vehicles' power plant. However, the 2014 Toyota Sienna will produce 266 horsepower compared to the 260 horsepower the 2014 Nissan Quest will put out on the top end. An easy trap to fall into would be saying that an engine with a lower power output would have better fuel-economy. The difference in fuel-economy between the 2014 Toyota Sienna vs. the 2014 Nissan Quest is one mile per gallon in the city. The highway scores remain identical.

Since the number one job of a minivan is hauling people and cargo, having a comparison of the two vehicles in this regard is more than germane to the conversation. The 2014 Toyota Sienna does each of these chores better than its Nissan counterpart. The 2014 Sienna has maximum passenger occupancy of eight-passengers to the Quest's seven passenger capacity. This is because the second row captain's chairs that are standard and the only choice on the Quest are optional equipment on the Sienna in addition to having a full bench seat.