2014 Toyota Rav4 vs 2014 Mazda CX-5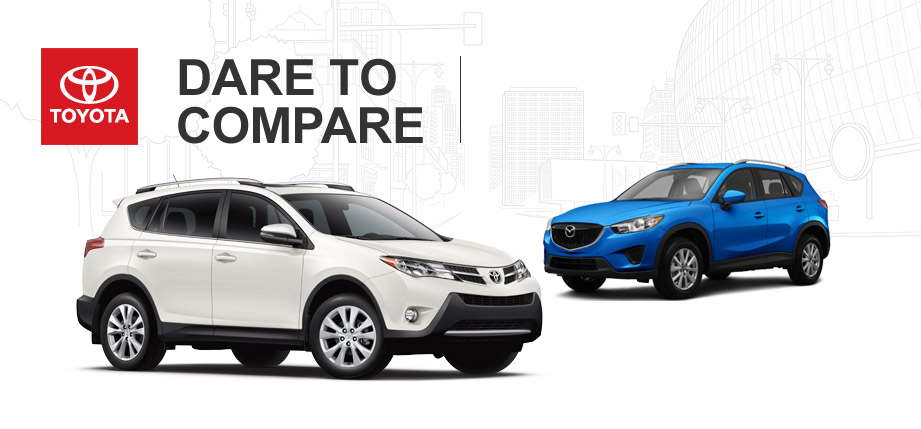 2014 Toyota

RAV4

2014 Mazda

CX-5

2.5-liter, Four-cylinder
Engine
2.0-liter, four-cylinder
176/172

Horsepower/Torque (lb.-ft.)

155/150
24/31

Fuel-economy

25/32

73.3 cu.-ft.

Max. cargo space
65 cu.-ft.
2014 Toyota RAV4 vs. 2014 Mazda CX-5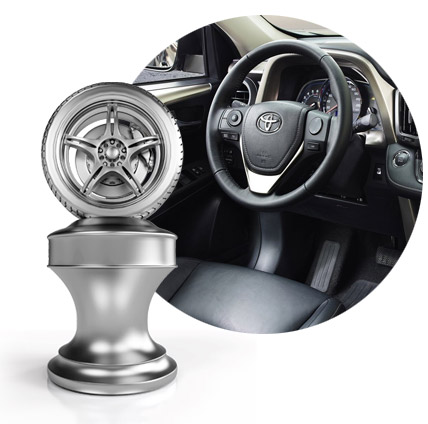 With little need for debate, Toyota has emerged as one of the top producers of crossover SUVs; evidenced by the fantastic roster available at Toyota of Naperville. Among the most popular of the crossover SUVs is the 2014 Toyota RAV4. For many years it has proven to more than live up to everything its owners have asked of it. Following a total redesign for the 2013 model-year, the 2014 RAV4 has soldiered on to be a leader in a class of very capable vehicle. Looking at the 2014 Toyota RAV4 vs. the 2014 Mazda CX-5 we can see two strong examples of the crossover SUV segment.

Both vehicles use very modern exterior designs that are as attractive to look at as they are functional. At this point in the automotive game, everyone is looking to pickup as many mpg points as they can. The exterior design features of the 2014 RAV4 and the 2014 CX-5 allow each vehicle to cut through the air as cleanly as possible, making them each among the most fuel-efficient in their class.
Separating the 2014 Toyota RAV4 from the 2014 Mazda CX-5
There are many things to admire about the new CX-5. It offers a very efficient powertrain that produces an adequate amount of power to be a very competent daily driver and family mover. However, the battle of the 2014 Toyota RAV4 vs. the 2014 Mazda CX-5 is won and lost on these terms and all of them fall for the RAV4. A 2.5-liter, four-cylinder engine sits under the hood of the 2014 RAV4, with the six-speed automatic transmission this powertrain set up will produce 176 horsepower while achieving Environmental Protection Agency fuel-economy estimates of well more than 20 miles per gallon in the city and 31 miles per gallon on the highway.

On the other hand, the 2014 Mazda CX-5 is powered by a 2.0-liter, four-cylinder engine; which is smaller than its Toyota counterpart. This is where the differences between the two vehicles truly become clear. The 2014 CX-5 has a top end power output of just 155 horsepower. Normally, this is the point where someone would jump in and mention the increased fuel-economy for the Mazda crossover. This is where those people would be wrong. The 2014 CX-5 has a scant one mpg advantage over the new RAV4 in the city on the highway; a veritable statistical tie.